*** Its The Return Of BMX Finger Bikes ***



Gene`s BMX News -- 04/27/2009
Back in year 1999 Road Champs Bike Xtreme Sports
(BXS) brand, Jakks Pacific developed and manufactured
and marketed GT, Haro, and Schwinn collectible Finger
Bikes. - www.genesbmx.com/miniature-bmx-bikes.html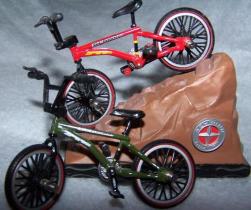 Ten years on down the long BMXing road, the BMX
Finger Bikes may be returning to the BMX community.
Have a look.......



Flick Trix Finger Bikes, Hutch Trick Star



The Flick Trix line of finger BMX bikes is making a big comeback
in 2009. It was my pleasure to work with this company for the past
year or so in making a true and proper Hutch Trick Star representation.

As you guys know, I am a very detail-oriented person, and countless
e-mails and samples were reviewed and tweaked to get a fitting
example of the Trick Star. Hats off to those engineers who pulled
it off. Wait 'til you see these in-person. They are very cool!




Target, Wal-Mart, and Toys-R-Us will begin stocking them in June,
and might hit the shelves around June/July. Smaller stores may
also carry them.



The Return Of Finger Bikes






I definitely feel old now. Finger Bikes are back. Either that,
or the trend to dead in the water to new trend once again
cycle is shortening.

I suppose I could go on sabbatical and write a social science
paper about the subject, but I'd probably be late for Russian
Circles at Maxwell's in Hoboken tonight. Anyways, finger bikes
are back, and SE Racing seems to have the jump on them.

SE is launching a PK Ripper Looptail with Landing Gear forks
in two colorways, which will be available this summer in
Toys-R-Us, Wal-Mart, Target, & toy stores nationwide.

Bathroom sinks of the world, consider this your "Why is there
a creepy man in mid 30s using me as a skatepark" warning.

-Brian Tunney

The NEW! 2009 Flick Trix BMX Finger Bikes
The Source: ( http://www.flicktrix.com )

The web site does load slow as it moves a lot with flash. Hint:
Turn off the music! and the page does load a little bit faster.

The site has information, colors, brands of all of the New
BMX Finger Bikes and a few videos and what nots.........
The finger bikes can be found at: Walmart, Target, Toys R us.
_________________
Geneb...Wenatchee,Washington-USA
All Things Northwest in BMX!
***** Gene`s BMX *****
http://www.genesbmx.com